Okay, some of you may be thinking TMI, but I'm sharing anyway.

Cramps SUCK!
Especially when they force you to curl into a tiny ball of a person.
True story.
Anyhoo,
on with the show.
Today has been a much better day!
Why, you ask?
Well, for one, a friend of mine got me a job interview at the place she works!
Can I get a HELL YEAH??
I've received several emails today from parents who have told me they are sorry about what has happened to me.
I've actually got a lot of people supporting me despite what happened.
I've been on Cloud Nine, and can now go back to doing my "Happy Happy Joy Joy Peter Facinelli is Following Me on Twitter" Dance!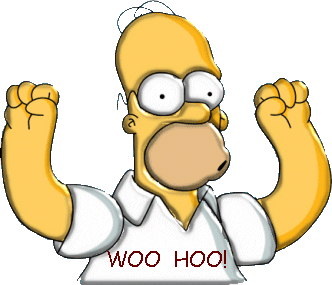 Homer Simpson approves!! :)
Okay, so I am now less than a month away from my fabulous vacation.
I get more excited each day!
England, I hope you're ready for me!
Your eyes are not fooling you.
I really am this blurry in person.
I wonder what I look like to drunk people!
I don't know which castle this is.
It will be my future home in England.
I've made the decision.
Hopefully it has no scary ghosts!
*Note: Erm...okay, so it was pointed out to me that this "castle" is actually Oxford University.
My bad!
I'll just have to find another castle to reside in!
Maybe I can get a time-share at Buckingham Palace.
I bet that would cost more than the amount of money I've made working for the last 12 years.
How sad.*
Check it out!
I received this marriage proposal today from Mr. Robert Pattinson!
I, of course, said yes!
He will be moving into the strange, possibly ghost infected British castle with me.
A special "thank you" to
hwilliams3782
(AKA Heather Williams) for capturing that wonderful kodak moment!
She definitely deserves a follow from YOU on Twitter!!
I love you, girl! :)
For those of you who may be concerned...
PI, PE, PS, and McCheffy will all by travelling to England with me.
I told them they need to be on their best behavior on the way over.
If they behave, they will be allowed to terrorize the streets of London all they want.
All you Brits, be on the lookout!
They may be small, but they sure are mean.
Seriously...

Pocket Illyria and Pocket Edward have tried to kill each other several times now.
Pocket Spike thinks McCheffy is a Happy Meal with Legs (even though he claims he no longer drinks the blood of humans).
Pocket Spike and Pocket Illyria continue to annoy each other.
Pocket Edward and Pocket Spike are battling inwardly over which one of them is more attractive and who uses more hair product.
It's pretty much a soap opera in my purse!
Anyway,
that's the story!
Hope everyone is excited for the weekend!
Cross your fingers for my job interview!
Thank you to
everyone
who has been supportive.
Family.
Friends.
Twittercitos.
You've all helped cheer me up in some way!
Live long and...prosper. I guess.
Kellebelle1981 :)